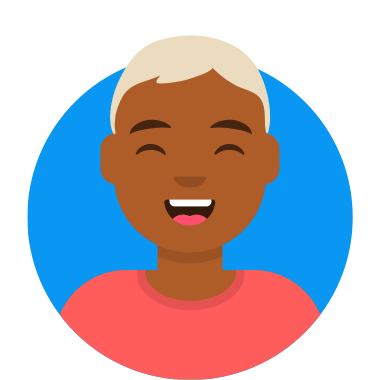 Kerry was born in Canada and grew up in a world of pets, from turtles to cats, dogs, guinea pigs, hamsters, gerbils, rats, a dove, snakes, goldfish, rabbits, a horse, a bat, two brothers and a monkey. She studied zoology, then took herself to Australia with a backpack and became a rural vet. One day she drew some cartoons for the newsletter of a dog training club and accidentally began a new career as a multi award-winning cartoonist and book illustrator. Kerry has now also turned her hand to writing and no matter what she does, some animal or another always seems to wriggle its way into her life. Even Kerry's enjoyment of singing is not immune as she is now part of a quartet called 'Dog Walking Backwards'! Kerry's latest hobby is learning how to juggle (without animals!), as you can see in the photo below..

As a cartoonist Kerry has been associated with the Sydney Morning Herald for 12 years and she has also drawn for the Herald-Sun, New Weekly, The Bulletin, Burke's Backyard Magazine, Cosmopolitan and dozens of other publications. She was twice awarded 'Best Single Gag Cartoon Artist' in the annual national Black and White Artists' Award.
Kerry has illustrated a number of children's books, including Just Like Emily (with Sally Odgers), The Web (with Nette Hilton), Zoo You Later (with Chris Cheng), Spook's Shack, Nim's Island and Ark in the Park (all with Wendy Orr), and has collaborated with writer Lisa Shanahan with Sweetie May and Sweetie May Overboard. The Web is a CBCA Honour Book and Ark in the Park won the CBCA Book of the Year for Younger Readers (1995). Kerry was both author and illustrator for Gordon's Biscuit. Her most recent books include The Princess and the Unicorn (with Wendy Blaxland), Too Much Stuff (another collaboration with Wendy Orr), Quincy and Oscar (authored and illustrated by Kerry) and My Sister Has a Big Black Beard (text by Duncan Ball).
With such a breadth of experience Kerry has a lot to offer school as well as adult audiences and the feedback from her talks and workshops is exceptional: ' … it was one of the most successful and enjoyable visits we have had and Kerry has generated enormous interest in the art of illustrating books … ' ; ' … this school felt privileged to have such a treat. Not only is Kerry entertaining as she describes the process involved in … accepting a manuscript, but also most effective in providing the children with innumerable ideas in the process of cartooning.'
Feedback from Kerry's school visits:
"Very impressed!"
"Kerry was great! Very interesting, friendly and flexible."
"The students found her humorous and entertaining. They particularly enjoyed her sketching while they watched."
"Kerry has an excellent manner / rapport with children. Her performance was a good mix of information about writing and illustration. Her sense of humour is a great asset."
More information at www.kerrymillard.com.